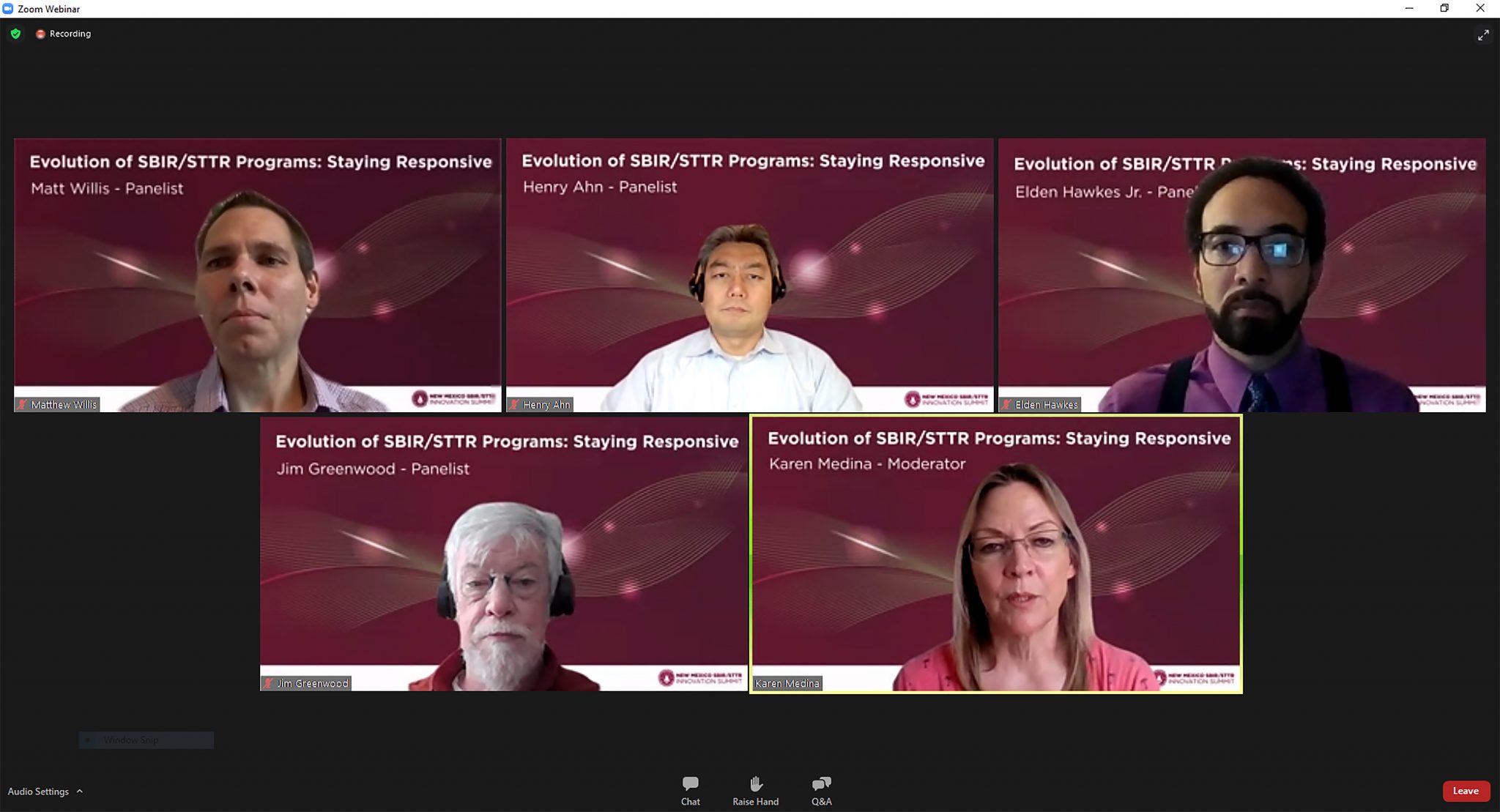 Stephanie Garcia | stephgar@nmsu.edu | Feb 09, 2022
Arrowhead Center at New Mexico State University's New Mexico Federal and State Technology Partnership Program recently hosted its fifth annual New Mexico Business Innovation Research (SBIR) and Small Business Technology Transfer (STTR) Innovation Summit. More than 340 attendees from 38 states and four countries attended the summit.
SBIR and STTR programs, administered by the U.S. Small Business Administration, promote technological innovation and commercialization by providing non-dilutive funding to small businesses focusing on research and development. Eleven federal agencies, with 12 programs, participate in the SBIR/STTR programs and collectively offer about $4 billion in federal funding to small businesses each year. 
NM FAST works to improve participation in SBIR/STTR programs by underserved, innovative and technology-driven small businesses. NM FAST contributes to the growing technology and innovation ecosystem in New Mexico by offering micro-grant awards for eligible small businesses, mentoring, one-on-one assistance, SBIR/STTR accelerators and statewide workshops, and events like the innovation summit.
The annual summit addresses federal funding opportunities for technology-based innovative businesses by highlighting how to create strong proposals so their technologies and services attract federal dollars successfully.
Due to the COVID-19 pandemic, the December summit was held virtually, and featured sessions with panels led by industry experts and federal officers. Bob Smith, the Department of the Navy's director of Navy SBIR/STTR programs, delivered the keynote address.
Panel topics included tips and tricks from previous SBIR/STTR awardees, data rights, third-party investment and how to stay responsive as the SBIR/STTR programs evolve. Each panel included a Q&A session.
Participating federal agencies included the National Science Foundation, NASA, the U.S. Department of Energy, and the Department of Defense and its component agencies, including the Army, Navy and Air Force. Attendees heard from program managers from the Army, Navy and Air Force SBIR/STTR Programs, and had the exclusive opportunity to privately meet with program managers about their innovative ideas. In total, NM FAST facilitated 85 one-on-one sessions during the event.
To watch an archived playlist of all of the sessions, visit https://www.youtube.com/playlist?list=PLcc1H97ERHZOY1pSoPUZjKWzmhFiTTxmh.
The expansion of the summit has been a highlight for Arrowhead Center. Now in its seventh year of funding, the NM FAST program helps New Mexico-based small businesses navigate the submission process for their SBIR/STTR proposal packages for all participating agencies. All NM FAST services are free.
To learn more about NM FAST and the different programs and services they offer, visit https://arrowheadcenter.org/program/nm-fast/.