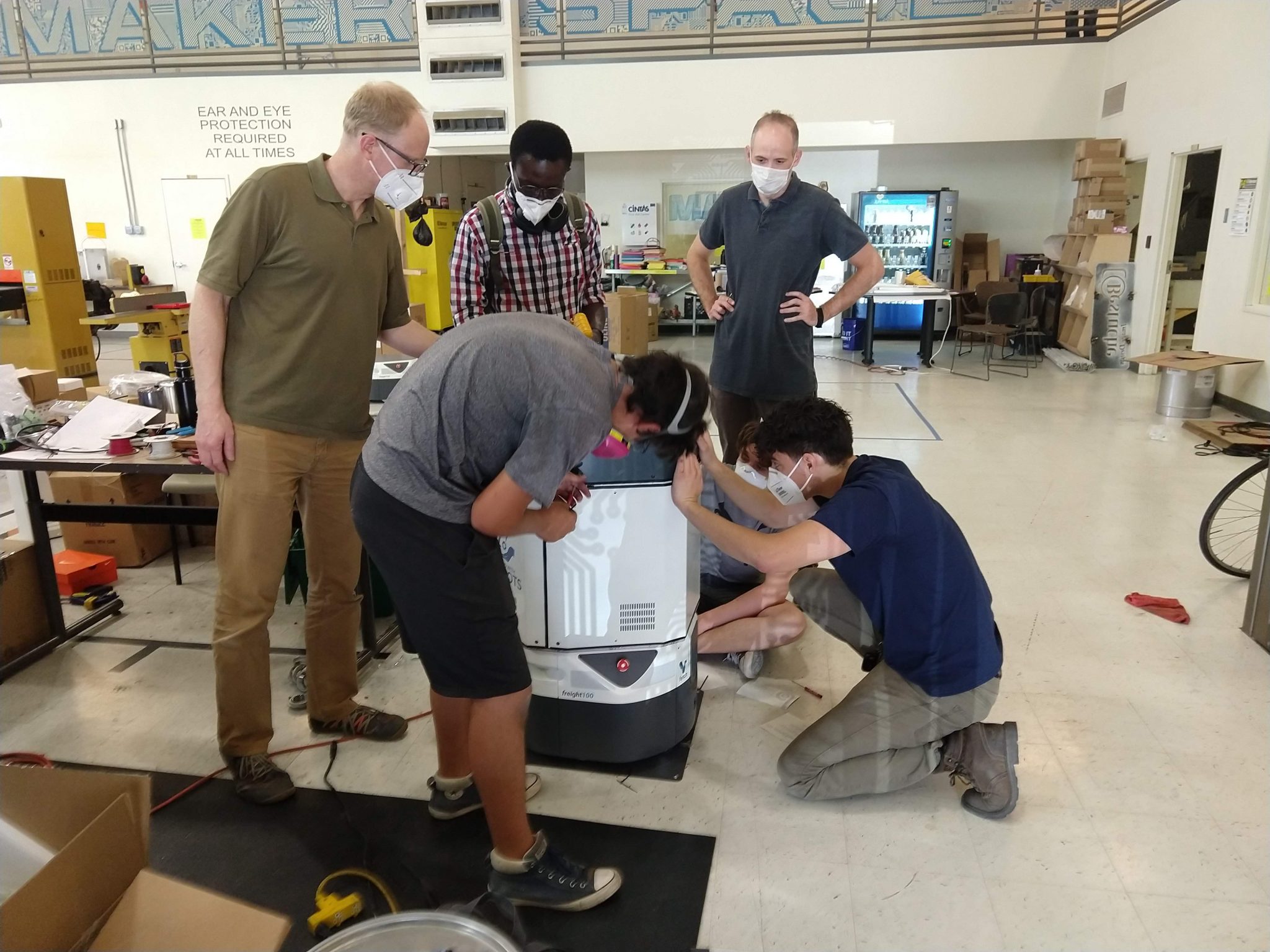 Cassie McClure | cassie@mcclurepublications.com | Jun 02, 2021
Build With Robots, a company that uses robotics to disinfect large spaces like schools and airports, has received an investment from the Arrowhead Innovation Fund, which is housed at New Mexico State University.
"The investment from the Arrowhead Innovation Fund is a great example of the New Mexico economic ecosystem pulling together to support focused economic growth," said Matthew Ennis, Build With Robots co-founder and chief strategy officer.
Beto Pallares, AIF fund manager, said the fund's investments are focused on solving problems and using technology to align themselves with economic development.
"With COVID-19, we saw that the need for disinfection might be something needed in a globalized world, where new strains of even the flu can affect the society," Pallares said. "Robotics can alleviate some of the hard-lifting that supports society to free up humans to use their time in other ways."
Build With Robots' Breezy One robot has been shown to "eliminate nearly 100 percent of pathogens," Ennis said. "In scientific terms, this is what we call a 6-log reduction. That basically means we're reducing 99.9999 percent of pathogens, which is a significant increase over other disinfecting technology."
Breezy One was developed in New Mexico and is being used at the Albuquerque International Sunport.
Build With Robots only uses the most effective and safest disinfectants registered with the Environmental Protection Agency and on List N for proven effectiveness against COVID-19. It can be filled with 10 gallons of solution, enough for up to 400,000 square feet and can disinfect more than 100,000 square feet an hour under normal operation. Breezy One can operate for about two to three hours before needing to recharge, which can be done in under an hour.
Ennis said that Breezy One helps airports address regulatory guidance like the International Civil Aviation Organization Council's Aviation Restart Task Force Take-Off document that recommends the cleaning and disinfection of terminal infrastructure, or the Airport Health Accreditation program, which states airports should demonstrate they are prioritizing health and safety in a measurable, established manner.
Breezy One effectively learns the area's blueprint using lidar and 3D cameras, the same technology used in self-driving cars. It scans its environment, looking for any obstacles to avoid, and when detected, Breezy One simply stops or drives around, depending on the condition, such as a busy school.
"We will use the investment to scale the deployment of Breezy One at schools throughout New Mexico and around the country, providing more New Mexicans with great technology jobs," Ennis said. "Plus, Build With Robots has been able to add a great sales team to our incredible engineering team."
AIF has a total of $2 million in commitments for investments, including $800,000 from New Mexico's Catalyst Fund, a $20 million "fund of funds" to support New Mexico companies, and $500,000 from the NMSU Foundation and other private investors. AIF also enjoys the support of the U.S. Economic Development Administration's Regional Innovation Strategies program through a $300,000 grant.
AIF is looking for companies with entrepreneurs fully committed to growing and scaling their company and who are seeking between $25,000 and $200,000 in investment toward their total seed round fundraising target.
For more information about AIF, visit www.aifvc.com or contact Carlos Murguia at carlos@aifvc.com or 575-405-1042. For more information on Build With Robots or the Breezy One, visit https://breezyone.com.